When searching for a service, most people turn to Google for answers.
The same holds true for legal services – the majority of individuals search for a lawyer online who can fit in their specific needs.
Google owns around 76% of all search traffic in the U.S. and gets searched for around 87 billion times every month.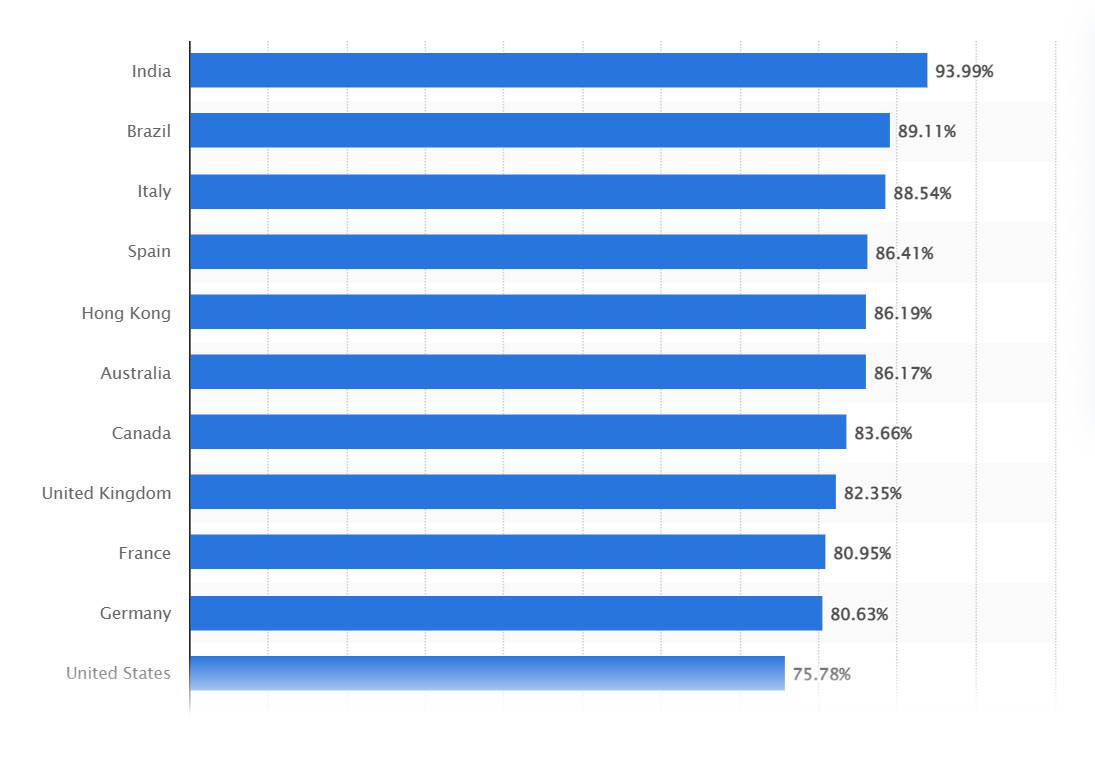 According to the Legal Trends Report, 57% of people search for a lawyer by their own, using methods such as:
: Online search engines like Google
: Visiting lawyer's websites
With so many people turning to the digital world, pay-per-click advertising (PPC) is an effective way for lawyers to reach potential clients and gain new business. PPC allows lawyers to target specific audiences and sharpen their marketing efforts to improve client acquisition.
PPC (Pay-per-click), is an online paid advertising model that is FREE for you until a prospect clicks on your ads and visits your website or makes a phone call to your business by clicking your ads. You would pay a set amount each time a prospect clicks on your ad. When done right, PPC can help lawyers achieve as many quality leads as they can handle.
But, if you got it wrong and not manage it in the proper way, you may burn your marketing budget without getting satisfactory results.
In this guide, you will explore the MISTAKES you should avoid that could ruin your law firm PPC campaign.
1. Not targeting the right location
We have analyzed 100s of PPC campaigns.
The mistake we frequently see in lawyer PPC campaigns is the absence of proper location targeting.
Studies have shown that people are more likely to contact your business when you are local.
So, set geographical parameters based on the user's location. Careful bidding and targeting your prospects based on their physical location are key to improving your firm's campaign performance.
Think about it!
What good is it to show your ads to people in Florida when you only practice law in New York?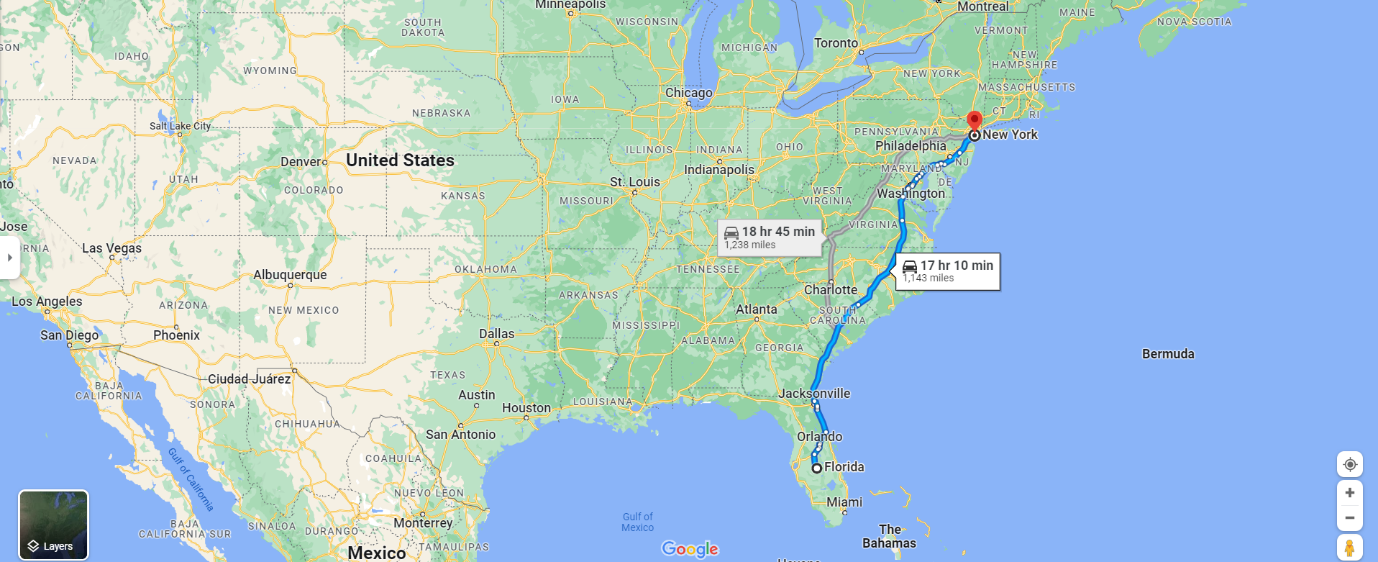 Here is the solution.
With the help of Geo-targeting, you restrict the delivery of your ads to specific locations you are serving in. You can target your prospects by areas within a country, city, zip code, radius around a specific location, or groups of locations (which can include your business locations and places of interest).
But remember, you're charged for every click, so you want your location targeting to be as precise as possible.
2. Not leveraging negative keywords
Let's say, you have a law firm in Florida and you are using Florida + lawyer as a keyword.
You might get a ton of clicks, but your ads could also be appearing for irrelevant search terms such as "accident lawyer in Florida salary" and more.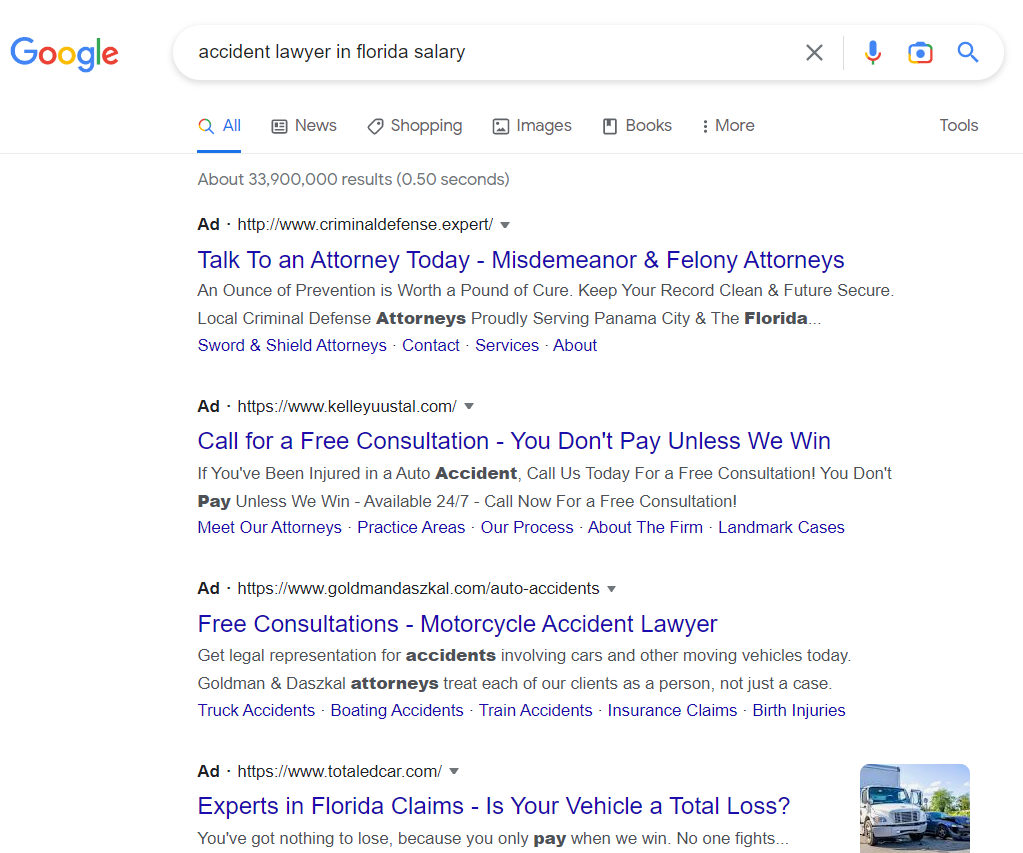 I am sure, you would not like to appear for these kinds of negative keywords and waste 1,000s of dollars per month on these irrelevant and unwanted clicks.
Negative keywords are phrases you don't want your ads to appear for.
So, how do you prevent this from happening?
You add "salary" as negative keyword in your PPC platform.
Or
You can add any number of keywords you don't want your ads to appear for such as "free", "cheap", "pictures", etc to your negative keywords list.
3. Sending all leads to your law firm's home page
A home page typically provides general information about a business or organization, while a prospect may be looking for specific information or assistance. Sending all visitors to the home page may cause confusion and frustration for many prospects, as they would not be finding the specific information they are looking for.
By directing leads to a more specific page on the website, such as a page dedicated to the practice area relevant to their enquiry, lawyers can improve the user experience and increase the number of visitors that will convert into leads.
Ideally, you should choose ads and landing pages in a way that resonates with the standard user journey detailed below:
Users search for something specific
— They click on an ad that resonates with their query
— They're redirected to a page that has "exactly" what they're searching for
If users click on your advertisement about "car accident law firm," they need to be taken to a page about "car accident lawyer" rather than the homepage of your law firm.
4. Not having a clear Call-To-Action
A call-to-action (CTA) is important for lawyers because it helps to convert website visitors into clients.
A CTA is a button or link on a website that prompts a visitor to take a specific action, such as
"filling out a contact form" "scheduling a consultation" or "calling the office".
By providing a clear and prominent CTA, you can make it easy for potential clients to take the next step and engage with your firm.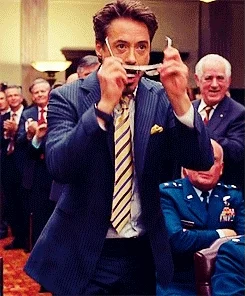 This can help you to increase the conversion rate of website visitors into clients and ultimately grow your business.
5. Not optimizing for mobile
More than 60% of people use their smartphones to search for legal services.
By optimizing the PPC ads for mobile, lawyers can ensure that their ads are easily viewable and clickable on a small screens, which can help to increase the chances that potential clients will engage with the ad and visit the lawyer's website.
Here are a few tips for optimizing your lawyer PPC campaign for mobile:
– Make sure your landing page is mobile-friendly: Your landing page should be designed to be easily viewed and navigated on a small screens, with text and buttons that are large enough to be easily tapped with a finger.
– Use location targeting: PPC campaigns allow you to target ads to specific geographic areas. This is especially useful for lawyers who want to reach potential clients in their local area.
– Use call extension: Ad extensions allow you to add extra information to your ad, such as your phone number. Using call extension will make it easier for mobile users to call on your number with just a click.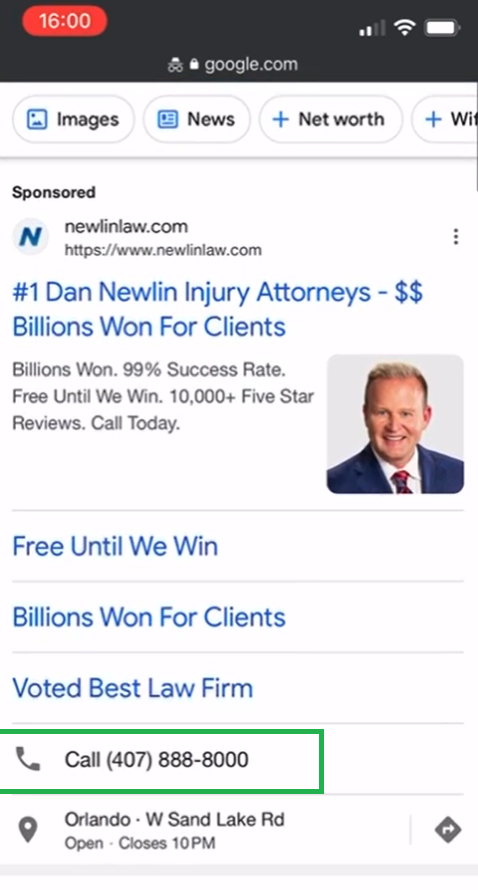 – Keep the ad copy short and to the point: Mobile users have smaller screens and less patience, so your ad copy should be brief and make it clear what the ad is offering.
6. Neglecting Ad Extensions
Ad extensions are important because they allow you to provide additional information to potential clients within your PPC ads. This can help to increase the chances that the ad will be clicked on and the website will be visited. Ad extensions can also help to improve the user experience for potential clients.
According to Google, advertiser using ad extensions receive around 13% more click through rate compared to who does not use them.
Here are a few examples of ad extensions that can be particularly useful for lawyers:
Call Extensions: This type of ad extension enables users to call the lawyer directly by clicking on the ad. This can make it easier for potential clients to get in touch with the lawyer, which can increase the chances that they will become a client.


Location Extension: Show the address of the lawyer's office in the ad. This can help the user to find the office quickly and easily.


Review Extension: This type of ad extension allows you to display customer reviews or ratings of your law firm in your ad. It can help to build trust and credibility with potential clients.


Sitelink Extension: This extension allows you to add additional links to specific pages of your website in the ad, such as your 'About Us' or 'Practice Areas' page. This can make it easier for potential clients to find more information about your law firm.


Callout Extension: This allows you to add additional lines of text to your ad, providing additional details about your law firm or services, such as "Free Consultations" or "Experienced in Personal Injury Cases".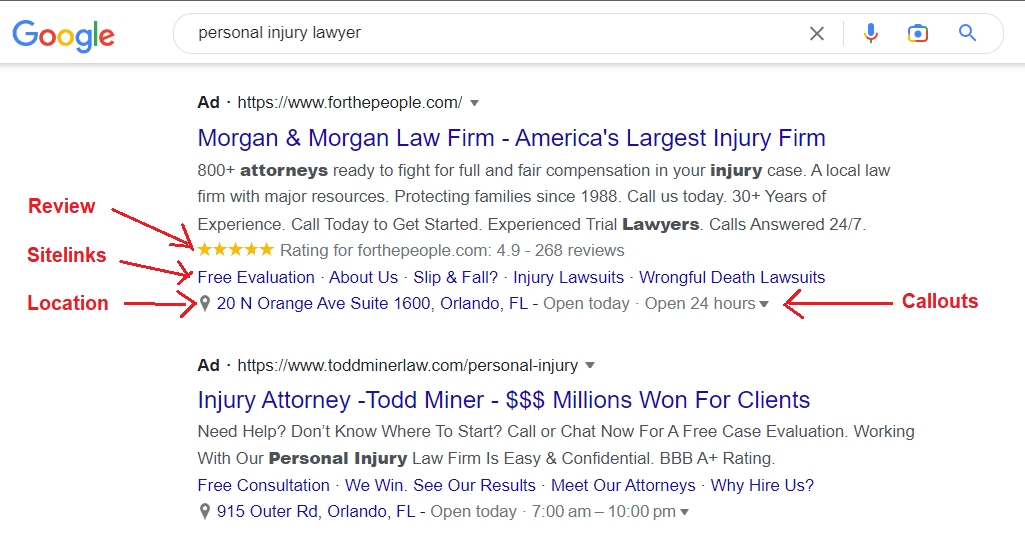 7. Not regularly monitoring and adjusting your campaigns
You won't experience optimal results overnight. It takes time for your ads to populate and for searchers to start clicking them.
By monitoring your law firm  PPC campaign, you can see which ads and keywords are performing well, and which ones are not. This information can be used to make changes to the campaign that can improve its overall performance.
Here are a few examples of things that lawyers might look for when monitoring a PPC campaign:
Click-through rate (CTR): The rate at which people are clicking on your ads. A low CTR may indicate that the ad copy or targeting is not resonating with potential clients.


Cost per click (CPC): The amount of money spent on each click. A high CPC may indicate that the bid on certain keywords is too high, or that the ad is targeting the most competitive keywords.


Conversion rate: The rate at which people are filling out contact forms or calling your office after clicking on an ad. A low conversion rate may indicate that the ad is not effectively communicating the value of your services or that the landing page is not optimized for conversions.


Quality Score: The metric used by Google Ads to measure the relevance and performance of your ads, keywords, and landing pages. A low-Quality Score can negatively impact your ad's performance, and lead to higher costs.
Follow these simple steps and you'll be able to jump straight out of the gates with a PPC campaign that drives a consistent stream of legal case consultations and phone calls to your law firm.
If you'd like help with your law firm PPC campaign management, we would be glad to discuss this with you. Fill out the contact form to get a FREE 30 MIN CONSULTATION with one of our lawyer PPC experts.