Imagine if your law firm's advertisement appears at the top of Google search results, even above the pay-per-click ads.
This would undoubtedly boost your lead generation and provide a guaranteed way to increase business opportunities.
Google Local Service Ads (LSAs) can make this a reality.
But several lawyers are unaware of its existence or lack the knowledge to manage local service ads for law firms effectively. Consequently, they are losing out on a consistent influx of legal leads from their local area.
The other benefit is, these ads are pay-per-lead, which means that you pay only for the leads you receive from a potential legal client who contacts you through the local service ads.
For lawyers who want to generate more legal leads, expand his/her law practice, and reach a wide but very targeted local audience, LSAs can be an effective marketing tool.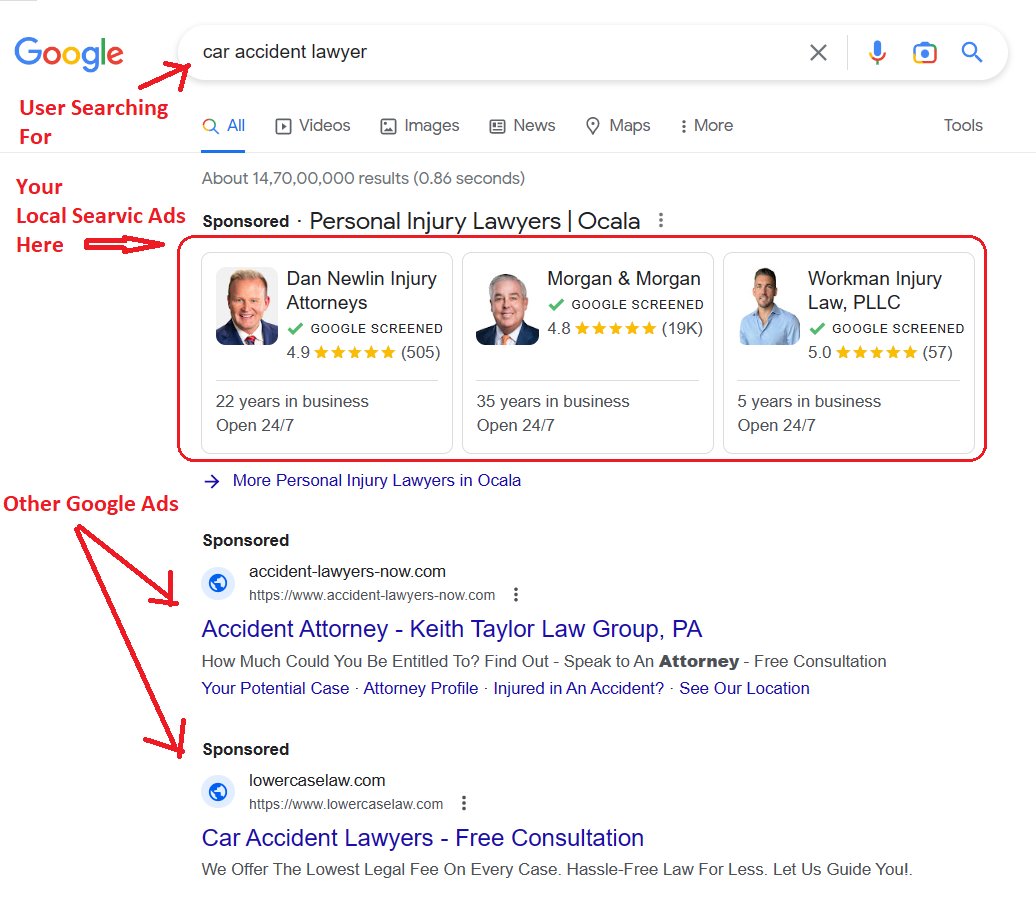 What Are Local Service Ads?
Local Service Ads (LSAs) are a powerful tool that can help lawyers to reach potential legal clients within their local area.
LSAs are a type of online advertising platform that Google offers to connect customers with local businesses.
These ads are particularly beneficial for businesses that offer services rather than physical products.
For law firms, LSAs allow you to display your service details in front of the local clients who are searching for legal advice or representation through Google.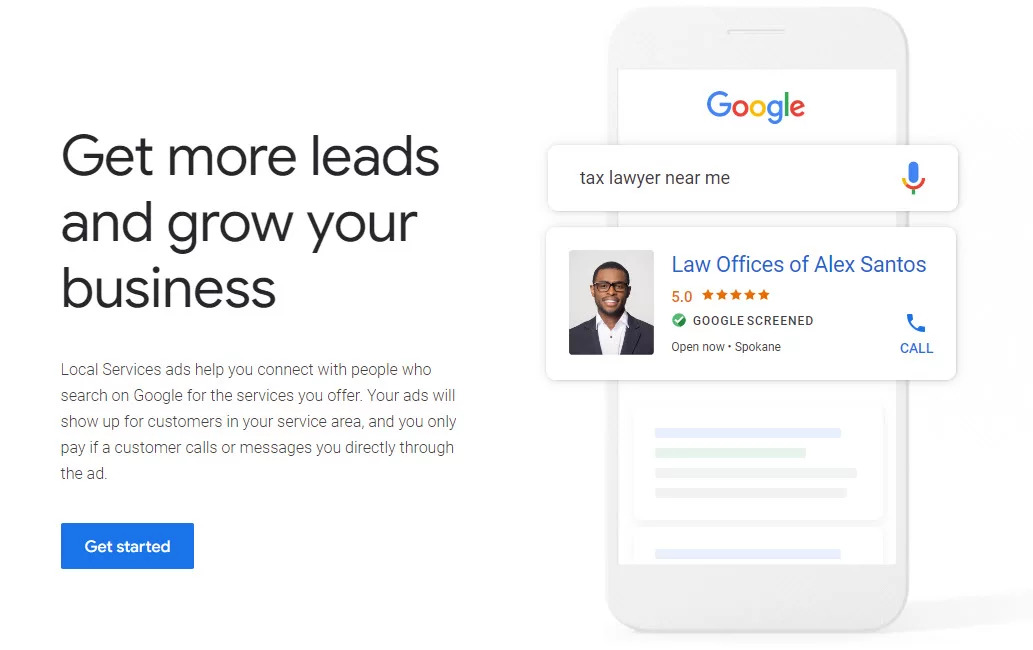 So, How Do Local Service Ads Work?
When a prospect searches for a law firm/lawyer on Google, they may see a Local Service Ad at the top of the search results.
These ads typically appear in a visually exclusive format displaying the law firm's name, your headshot, your law firm reviews and user ratings, your law firm location and more.
Prospects can then click on the ad to learn more about your law firm and its services.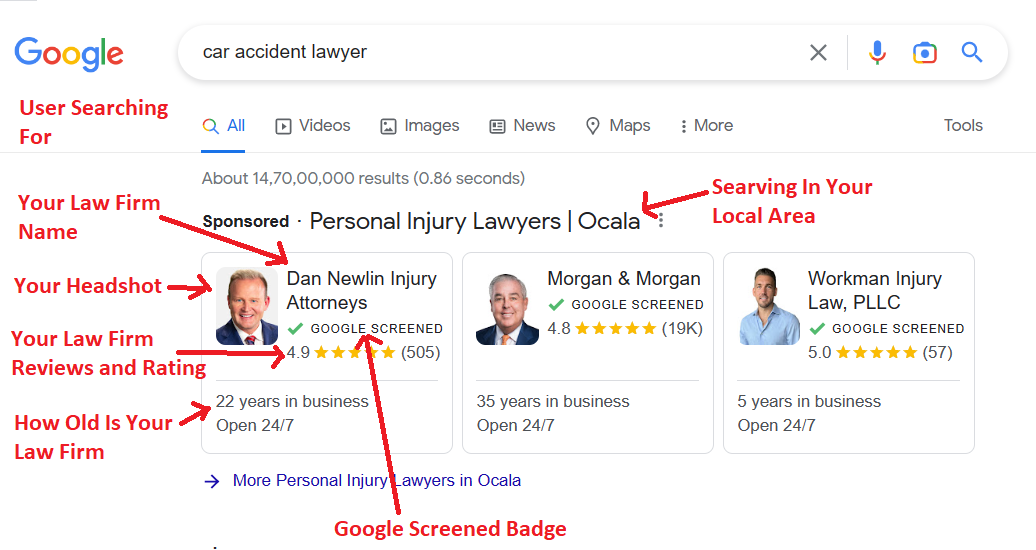 What Your Law Firm Needs to Go Live with LSA Ads?
In order to set up Local Service Ads for your law firm, you must meet certain requirements.
Your law firm must be licensed and verified in its respective state or region.
Your law firm must have a physical office location and be willing to undergo a background check.
Your law firm reviews and ratings.
Your ads must also meet Google's strict guidelines and policies to ensure the accuracy and relevance of the information being displayed.
In conclusion, Local Service Ads are a valuable tool for lawyers looking to expand their reach to their local potential clients.
By meeting the requirements and effectively managing these ads, your law firm can benefit from increased visibility and ultimately can sign more clients.
Benefits of Local Service Ads for Law Firms - Are They Worth It?
As more people turn to the internet to find legal services, law firms must adapt to new marketing strategies to reach potential clients.
Here are some benefits of using Local Service Ads for lawyers and why these are worth considering:
1. Increased Visibility: LSAs appear at the top of the search engine results page (SERP), meaning that they are one of the first things that potential legal clients see when searching for legal services in their area.
This increased visibility lead to a higher number of clicks and more potential clients for the law firm.
2. Improved Credibility: LSAs can also help to improve the credibility of your legal firm. When your law firm appears through a Local Service Ad, it is clear that the firm has undergone a background check and is licensed and verified to serve in its state or region.
This can help to build trust with potential legal clients who are seeking reputable legal services.
3. Cost-effective: Compared to other forms of advertising like google PPC ads, LSAs are relatively cost-effective. you only pay for the leads that you receive through the ads, rather than paying for the ad clicks.
This means that the law firm is only paying for prospective clients who have already expressed interest in their services, making LSAs a cost-effective option for law firms on a budget.
4. Better Targeting: LSAs allow you to target potential clients in your local area, which can lead to better quality leads.
By targeting clients who are searching for legal services in your region, law firms can connect with potential clients who are more likely to be interested in their services.
5. User Experience: Just like Google's PPC ads, Local Service Ads are visible on mobile, desktop, and tablet and appear through voice search.
Local Service Ads integrate a click-to-call feature and a tap/click option for users to obtain more information about a law firm prior to making a call which is a remarkable feature.
How to Set Up Local Service Ads for Your Law Firm?
Local Service Ads (LSAs) are an effective way for law firms to reach their target audience and generate leads.
In this blog post, we'll walk you through the step-by-step process of setting up Local Service Ads for your law firm.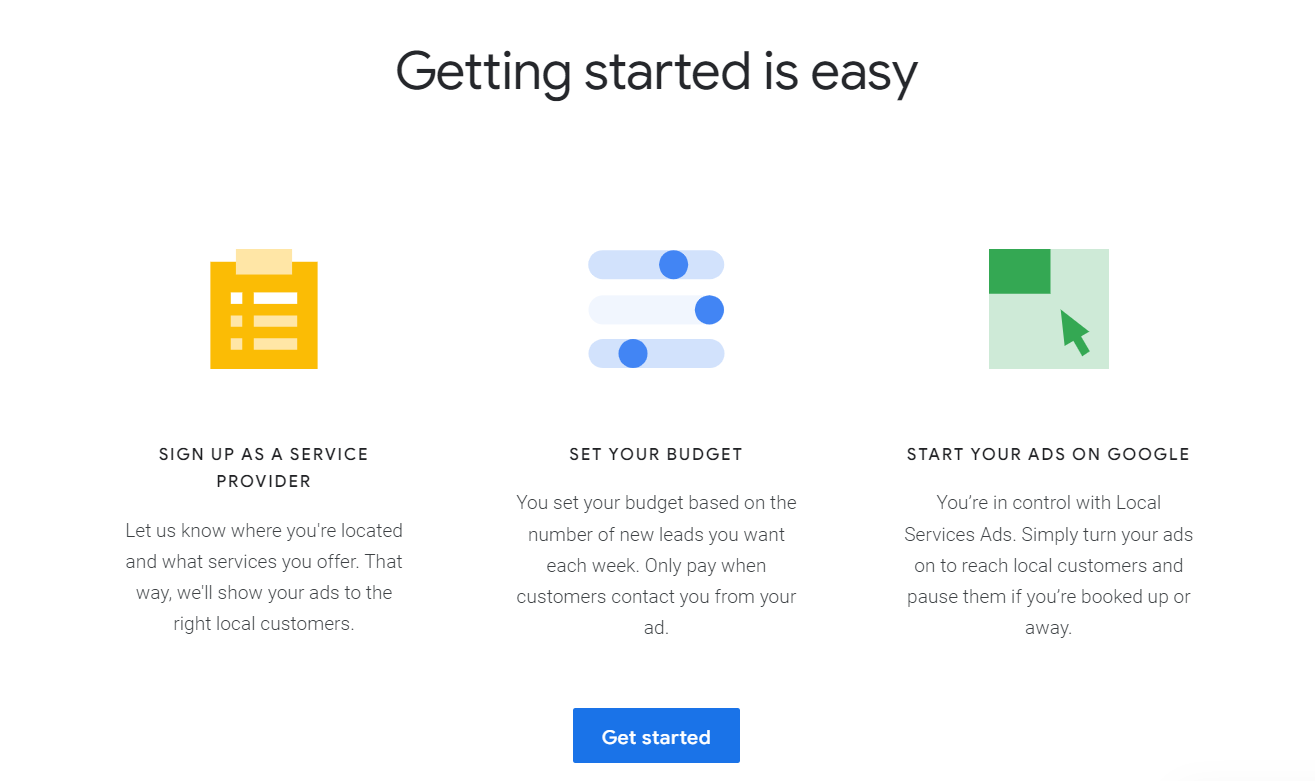 So, if you're interested in setting up LSAs for your law firm, here are the steps you should follow:
Step 1: Check If You Are Eligible
Before you can set up LSAs, you need to make sure they are available in your area and your legal practices are eligible to run Local Service Ads. LSAs are currently available in select locations across the United States and Canada, so check the list of eligible locations to see if your firm is located in one of them.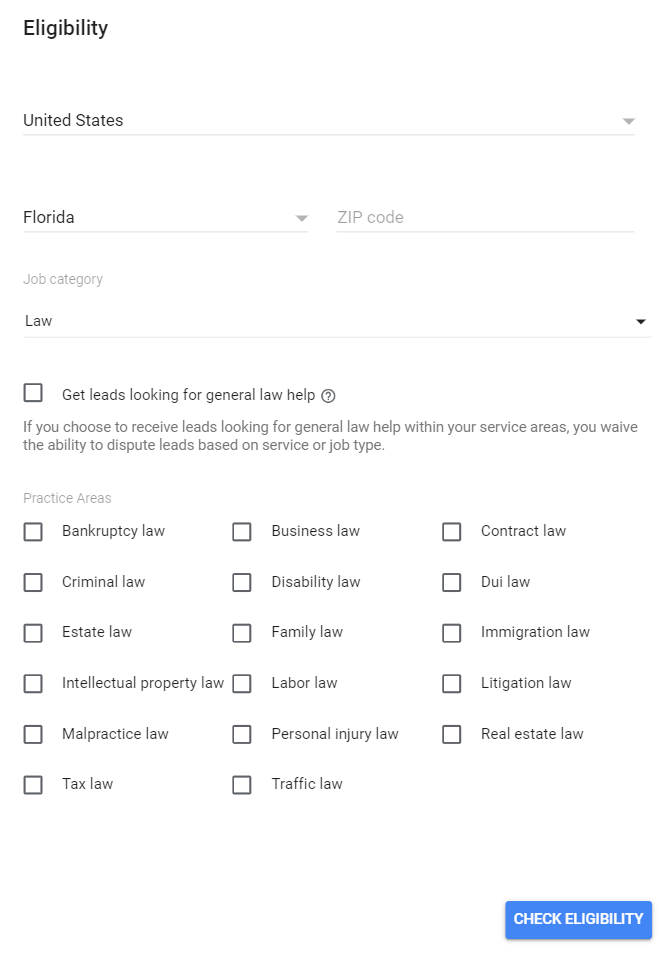 Step 2: Apply To Become A Google Guaranteed Law Firm
To participate in LSAs, you need to apply to become a Google Guaranteed law firm. This involves filling out an application and passing a background check, which includes a check of your business licenses and insurance.
Step 3: Create Your Local Service Ads Account
Once you've been approved as a Google Guaranteed law firm, you can create your Local Service Ads account. This involves providing information about your firm, such as your business name, phone number, and website.
Step 4: Choose The Legal Services You Want To Advertise
In your Local Service Ads account, you can choose which legal services you want to advertise. You can select from a range of categories, such as criminal defense, personal injury, or bankruptcy.
Step 5: Set Your Budget And Ad Preferences
Next, you need to set your budget for your Local Service Ads and choose your ad preferences. You can choose how much you want to spend on each lead, which types of leads you want to receive, and which areas you want to target.
Step 6: Create Your Ad
Once you've set your budget and ad preferences, you can create your ad. This involves writing a headline, description, and call-to-action, as well as adding images or videos.
Step 7: Launch Your Local Service Ads
Finally, Click on Launch Button to launch your Local Service Ads
Some Additional Tips That Can Help Lawyers Achieve Their Goals, Using LSA's
First, make sure your profile is complete and up-to-date with accurate information, including services offered and service areas.
Second, your law firm should aim for high customer ratings and reviews, which can be achieved by providing exceptional service and requesting reviews from satisfied customers.
Third, you should ensure that your ad budget is set at an appropriate level to reach your target audience effectively.
Fourth, your law firm should track its performance metrics regularly and adjust its strategy accordingly to improve its ad's effectiveness.
Finally, businesses should consider utilizing additional features offered by LSAs, such as the Google Guaranteed badge or video ads, to further enhance their visibility and credibility.
By following these tips and best practices, you can optimize your LSAs for maximum effectiveness and reach more potential customers in your local area.
How Can Law Firms Effectively Manage Their Local Service Ads?
By Lead tracking, you can monitor the number and quality of leads generated by the LSA campaign.
You should track your lead volume, lead source, and lead quality to determine the effectiveness of your ads and make any necessary adjustments.
Lead tracking can be done using tools such as Google Analytics or the LSA dashboard itself.
Messaging is another important aspect of LSA management.
Businesses should respond promptly to messages from potential customers to maintain a positive impression and increase the likelihood of converting the lead.
You should also make sure your messaging is consistent across all channels and in line with your brand voice and messaging strategy.
You can dispute a call or message that you received and been charged for, if that lead is not relevant to your legal practices. This would help you save money on irrelevant leads you get.
Budget management is critical for ensuring that the LSA campaign remains cost-effective and efficient. You should set an appropriate budget based on your goals and the competition in your industry.
You should also monitor your spending and adjust bids and budgets as needed to maintain a competitive edge and achieve desired results.
Overall, managing LSAs involves a combination of tracking leads, responding to calls and messages promptly, and monitoring and adjusting budgets to achieve the best possible results.
By implementing these strategies, your law firm can optimize its LSAs and attract more potential customers in its local area.
Local Service Ads (LSAs) offer several benefits for law firms, including increased visibility in local search results, higher quality leads, and a better return on investment.
While LSAs require businesses to undergo a background check and maintain high customer ratings, it helps build trust and credibility with potential clients.
Moreover, LSAs have a pay-per-lead model, meaning that law firms only pay for leads generated through the ad, resulting in a more cost-effective advertising strategy.
Overall, implementing LSAs can be a valuable addition to a law firm's marketing strategy, allowing them to increase their visibility, generate higher-quality leads, and achieve a better return on investment.