Hey Lawyers!
Is your marketing budget getting killed due to ineffective PPC marketing?
You have a lack of data insight, you are bothered by insufficient campaign management and burning money without desired outcomes, you are facing difficulties in tracking leads and ROI?
If your answer to any of the above problems is YES, continue to read.
If done right, PPC is a great method to generate consistent legal leads for law firms but managing the lawyer PPC campaigns is always a challenge.
Here, we have gathered some of the best lawyer PPC tools and platforms that can help you target the right audience, improve efficiency, cost-effectiveness, and can improve the process of tracking leads and business ROI.
By using these tools you can manage your law firm's PPC campaigns efficiently and can measure the success of your lawyer campaigns with ease.
Tools and platforms to help manage your law firm's PPC campaigns
Google Ads is a highly effective tool for generating leads for lawyers.
In fact, studies show that businesses make an average of $2 in revenue for every $1 they spend on Google Ads, which is a 100% return on investment in no time. Legal firms are no exception.
Additionally, Google Ads can help attorneys reach potential clients at the moment they are searching for the legal services you offer, with over 3.5 billion searches on Google related to legal services conducted each month.
Furthermore, Google Ads allows highly targeted advertising, so legal firms can reach their ideal audience based on location, keyword, and other criteria. By utilizing Google Ads, lawyers can expect to see an increase in website traffic, phone calls, and leads from potential clients. This can result in a higher volume of new legal cases and a stronger bottom line for your law firm.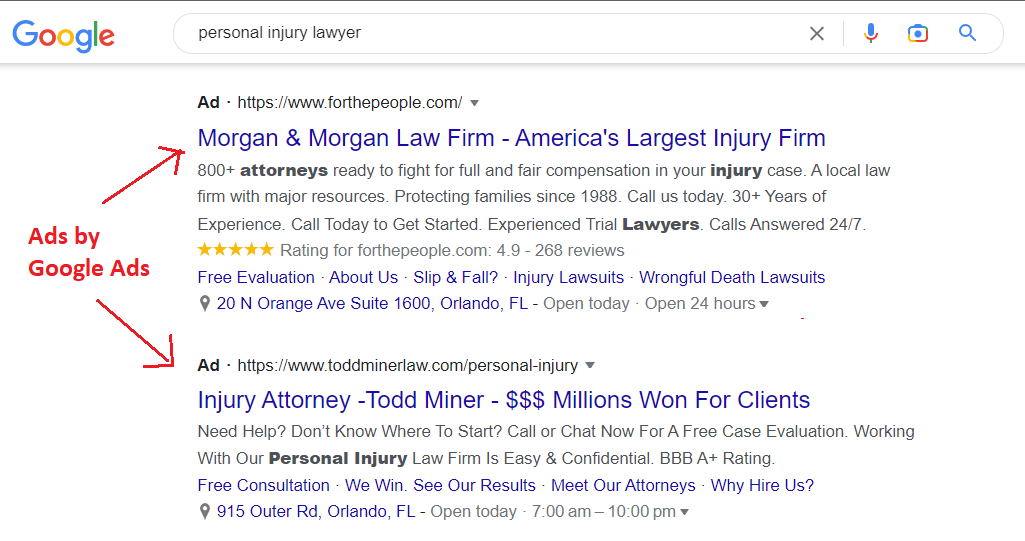 Bing Ads can also be a valuable tool for generating leads for your legal firm.
With over 33% of the US search market share, Bing Ads provides access to a significant portion of the online audience.
Moreover, Bing Ads offers a number of unique targeting options, such as demographic targeting and device targeting, which can help legal firms to reach specific audiences more effectively.
In addition, Bing Ads often has lower cost-per-click rates compared to Google Ads, meaning that legal firms can reach more potential clients for their advertising budget. In fact, a study found that click-through rates on Bing Ads were 14.6% higher than those on Google Ads for certain industries, including the legal industry.
By utilizing Bing Ads, legal firms can reach a large audience of potential clients and expect to see an increase in website traffic, phone calls, and leads.
Facebook Ads is vital a tool for branding and generating leads for lawyers.
With over 2.8 billion monthly active users, Facebook offers a massive potential audience for legal firms looking to advertise their services.
Facebook provides massively targeted advertising options based on demographic information, interests, audience behaviors, life events and more, allowing legal firms to reach their ideal audience with accuracy.
Additionally, Facebook's retargeting features allow legal firms to show ads to people who have already engaged with their website or Facebook page, increasing the likelihood of converting viewers into clients.
According to a study, Facebook Ads can result in a conversion rate of 9.21%, which is significantly higher than the average conversion rate of 2.35% for all industries. By utilizing Facebook Ads, law firms can reach a large audience of potential clients and expect to see an increase in website traffic, phone calls, and leads.
Local Service Ads for Lawyers:
Google Local Service Ads (LSAs) have become an increasingly popular advertising method for lawyers to generate leads.
According to Google Research, Local Service Ads have a conversion rate that is 3 times higher than traditional search ads because these get positions above all organic results and the text ads by Google Ads.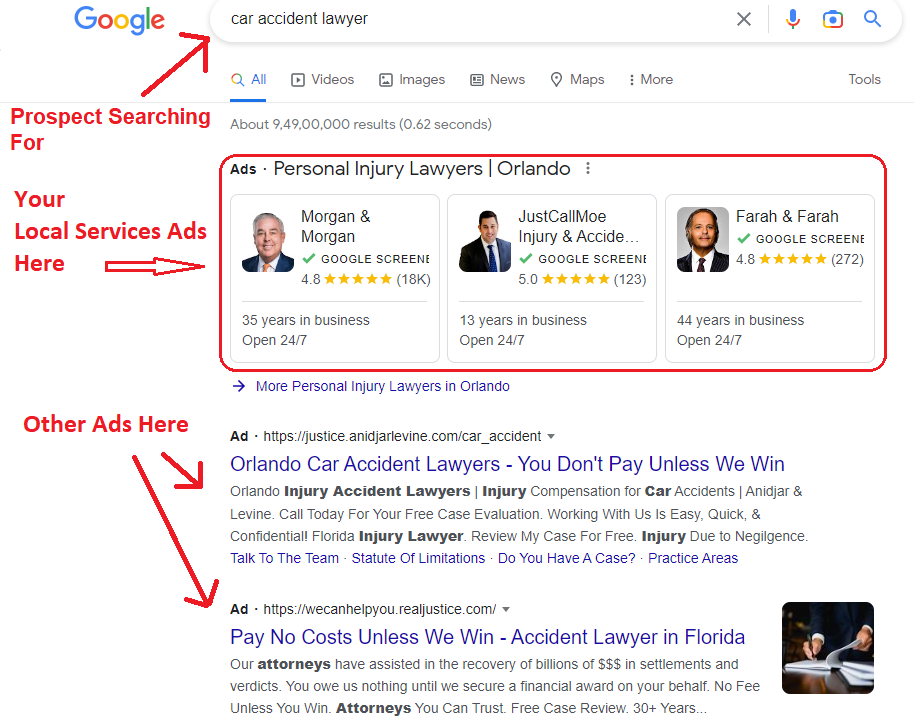 By utilizing LSAs, a law firm can showcase its services and positive reviews from previous clients directly on Google's search results page. This increases visibility and credibility for the firm, making it easier for potential clients to find and trust them.
In addition, LSAs only appear for users in the local area, ensuring that the firm's target audience is highly relevant and increasing the chances of converting leads into clients.
With LSAs, legal firms can also manage their online reputation and respond to customer feedback, further enhancing their reputation and attracting even more leads.
In conclusion, Google Local Service Ads for lawyers can help generate more leads, increase visibility, and improve its online reputation, making it a valuable investment for any law firm looking to grow its business.
Lawyer-Specific Platforms:
Lawyer-specific platforms, also known as legal directories, have become an effective way for legal firms to generate leads.

According to a study by FindLaw, 86% of people search for a lawyer online and more than 50% of people find their lawyer through a lawyer-specific platform. These platforms allow legal firms to showcase their services, experience, and credentials to a highly targeted audience, increasing the chances of attracting relevant leads.
In addition, legal directories often feature reviews and ratings from previous clients, which can greatly impact a potential client's decision to choose a particular legal firm. This means that by utilizing lawyer-specific platforms, a legal firm can improve its online reputation and increase trust with potential clients.
Furthermore, many legal directories like Avvo, Justia, and lawyers.com allow legal firms to target specific geographic locations, practice areas, and languages, further increasing the relevance of the leads generated.
Some legal directories list for you:
If you can't measure something, you can't improve it.
Call tracking software has become an essential tool for legal firms to track the leads and calls generated from various lead generation methods.
According to a study by Invoca, phone calls remain the preferred method of communication for 62% of consumers when searching for legal services.
By using call tracking software like Call Rail, a legal firm can accurately track the source of its incoming calls, allowing it to measure the effectiveness of its marketing campaigns and make informed decisions on where to allocate its marketing budget.
In addition, call tracking software can provide valuable insights into call metrics such as call duration, call volume, and caller location, which can help a legal firm to optimize its marketing strategies and improve the customer experience.
Moreover, call tracking software often integrates with customer relationship management (CRM) systems, allowing a legal firm to track the progress of leads and convert them into clients more efficiently.
In short, using call tracking software can help a legal firm to track leads, improve the customer experience, and make informed marketing decisions, making it a valuable investment for any legal firm for growing their business.
Analytics and Reporting Tools:
In 2019, a survey was conducted by ALM Intelligence and LexisNexis, which involved 163 legal professionals from large law firms, to evaluate their usage of legal analytics. According to the findings, 90% of the participants agreed that legal analytics has increased their efficiency and effectiveness as legal practitioners.
Additionally, the survey revealed that 70% of the firms surveyed were already utilizing legal analytics tools to make their work easier, more productive, and more profitable.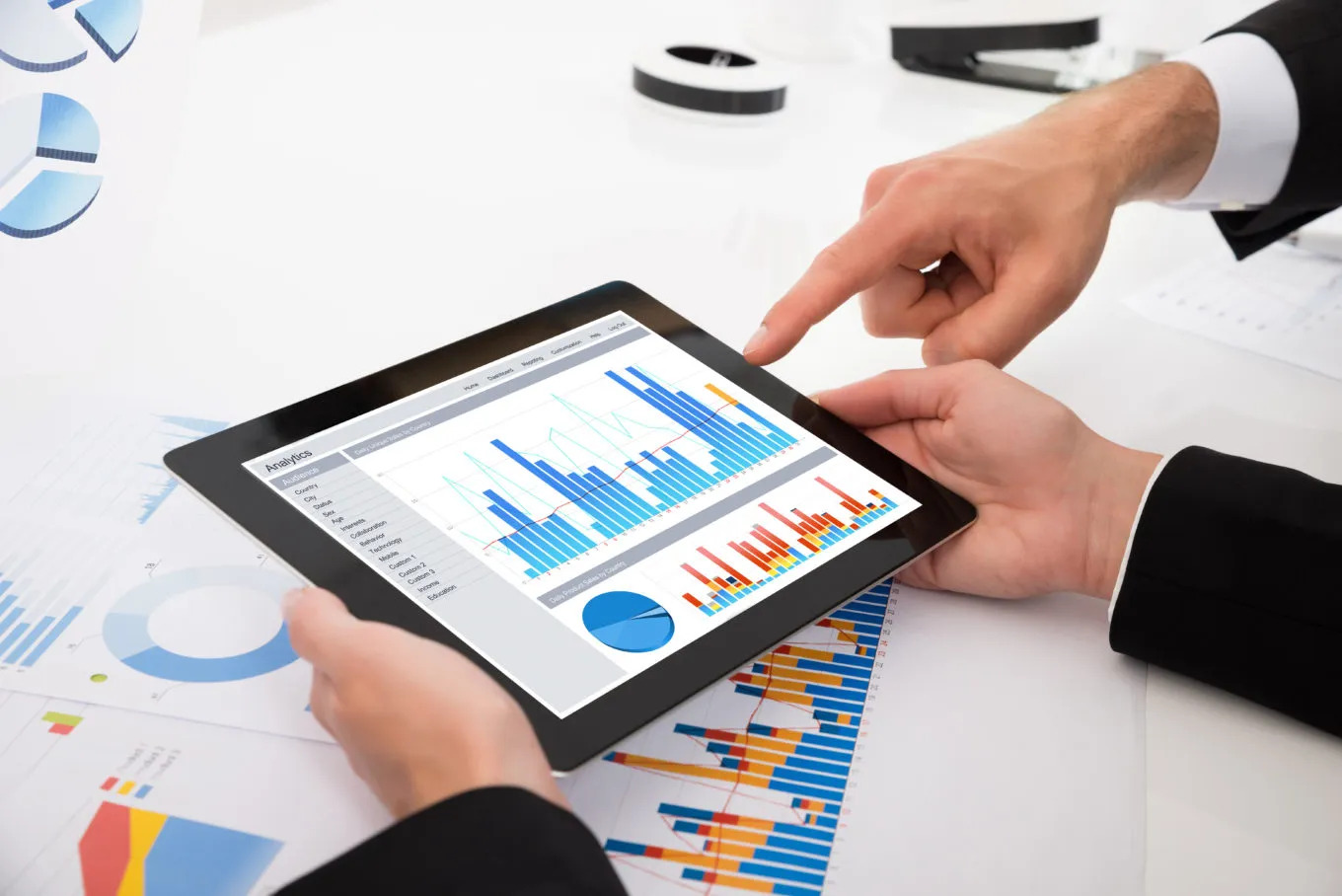 What Is Legal Analytics, BTW?
Legal analytics is a process that involves the collection and analysis of data, which can be utilized to benefit clients and improve legal practices. By using legal analytics tools, lawyers can analyze vast amounts of data and make data-driven decisions, resulting in valuable insights that can be used to evaluate new cases, potential outcomes, settlement amounts, financial gains, and the amount of billable hours required for each client.
Numerous legal analytics tools are available in the market that you as a lawyer can use, including Lex Machina, Premonition, Casetext, and LawLytics, to name a few.
Landing Page Builders for Lawyers:
For any lawyer PPC campaign, landing pages are a critical component.
Cost per click bids is high in legal industry. You can not waste your money on the visitors only who clicks, comes on your landing page but does not convert due to an average or bad landing page experience.
According to recent studies, businesses using landing pages can see a conversion rate increase of up to 55%.
By using landing page builder tools like Unbounce or Mailchimp, lawyers can create targeted, high-converting pages that drive leads and increase their client base.
Additionally, they provide unique features, such as dynamic text replacement and sticky bars, these features allow legal firms to create custom, targeted landing pages that are optimized for lead generation and conversion.
In today's competitive legal market, investing in landing page builders is a smart and effective way for firms to generate more leads and grow their business.
Ready To Grow Your Law Firm
Some tools can be very effective, as these allow lawyers to promote their legal services online by creating creative ad copies and attracting the right prospects. And the other tools give you the facility to track the performance, measure data, streamline your law firms process, and more as needed.
If you choose the combination of the right tools and utilize them in the best way, you can accelerate your law firm's growth and multiply it within a few years.