Attracting new clients and building a successful law practice can be a challenging task, especially in today's digital age. Lawyers often struggle with standing out in a crowded market and reaching potential clients who are actively searching for legal services online.
However, with the help of Google Ads, you can put your practice in front of potential clients at the exact moment they are searching for your legal services.
Google Ads allows you to target specific keywords and demographics, so you can reach the people who are most likely to need your legal services.
Additionally, by tracking the performance of your ads, you can see which campaigns are working and which aren't, and make adjustments in your Google Ads campaigns accordingly.
Overall, Google Ads can be a powerful tool for lawyers looking to grow their practice, and if you're not already using it, now is the time to start.
But, here is the big problem!
Google Ads average CPC for the legal industry is on the higher side. If you optimize and manage Google Ads for law firms the right way you can drive a good number of legal cases and grow your legal firm, but if you do it wrong, you may burn your marketing budgets in no time without any fruitful results.
For your reference, the cost-per-click (CPC) for lawyers ranges typically between $5 and $300 per click. The difference is huge and depends on the competition for law service you offer, your location and quality score you achieve by having a good Google Ads account setup.
"Personal Injury" and "Car Accident Lawyer" CPCs are the highest and you may pay anywhere from $50 to $300 cost per click, averagely.

Google Ads CPC Bids for "Personal Injury" and "Car Accident Lawyer" related keywords
So, here are the top 3 optimization strategies you must implement right to have Google Ads work for your law firm and STOP WASTING thousands of dollars each month.
1. Ensure Your Geo-targeting is Set Up Correctly
Geo-targeting for lawyers is important because it allows them to effectively reach and market to potential clients in the specific geographic location they serve.
If you don't do it right you would be getting clicks from locations you don't serve. PPC bids for legal industry is very high and you would easily burn a good chunk of your budget on these irrelevant clicks.
To set up your Geo-targeting in Google Ads, navigate to the campaign you want to add locations to.
Select the Targeting tab, then select the "Locations" tab.
Now click "Add location" and then select city, region, or pin code as per your targeting.
You also can deep dive into the locations and target an area based on the radius, by selecting the Radius option given.
If you have multiple locations to add, choose the "Add locations in bulk" option and upload your list of locations there.

2. Ensure Your Ads Speak to the Search's Intent and Readiness to Hire a Lawyer
Prospects are always searching for legal services you offer. Your ads should be very much relevant to the search queries they probably gonna search. If you do not do your research right this may lead to poor keywords targeting and ad creatives which will lead to the poor user experience at the end.
Here are areas you need to focus to have your ads speak your user's language.
Use specific keywords: Do thorough research on the keywords to target. Use long tail keywords to target highly relevant and low funnel prospects while you can use intent based keywords to target mid funnel prospects who might be interested in your services.
Keyword research and targeting is very much depending on your ad budget and can be adjusted accordingly.
For example, if you have low budget, you can target very specific keywords like "car accident lawyer in Orlando", but if you have a decent ad budget you can include high traffic keyword like "accident attorney" in your legal Google Ads campaign.
Use persuasive language in ad creatives: Use persuasive language in your ad copy that highlights the benefits of hiring you as a lawyer and emphasizes the urgency of the searcher's legal problem. Include specific keywords in your ad copy that are relevant to the user queries and solution you offer.
Use a clear and actionable call-to-action: Include a clear and actionable call-to-action in your ad, such as "Schedule a free consultation today" or "Call now" for immediate assistance.
Use ad extension: Use extensions such as call extension, site links, structured snippets, or callouts to provide more information about your business, services, expertise and how you can help the prospects looking for your legal services.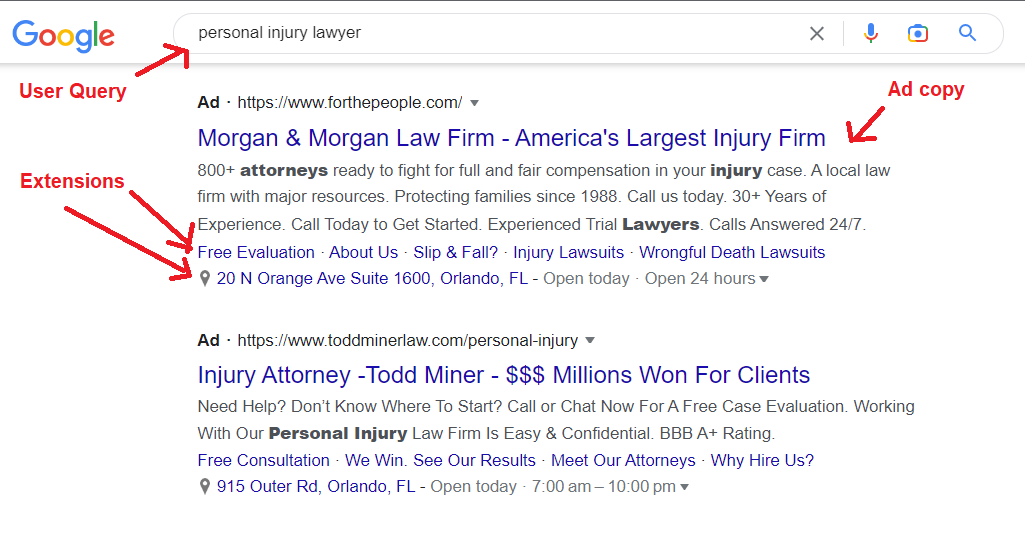 3. Track Every Action (record phone calls, form leads, chat)
60% of the law firms don't do the tracking right.
If you can not measure something you cannot improve it.
Track everything that you can – form filled on your website, record phone call conversions coming from your PPC efforts and track your online chats if you have implemented on your law website.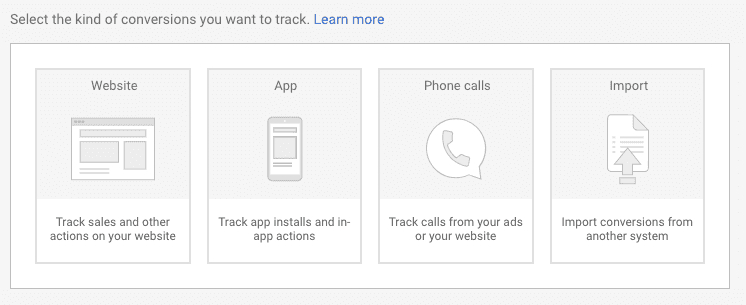 Phone calls can improve your marketing strategy: By having the data of the calls generated by the PPC ads, you can optimize your marketing strategy. You can see which of your legal service is generating more calls, and what type of clients are reaching out to you and converting to cases.
Form leads provide valuable data: Tracking form leads allows you to gather valuable data about your potential clients such as their name, email, location, the type of legal services they are interested in. This data can help you to better understand your target audience and optimize your PPC campaigns accordingly.
Chat interaction is a "real-time" conversation between lawyers/chat assistant and prospects. Tracking the chat is an essential step in measuring the effectiveness of your PPC campaigns. You can understand their pain points, feedback, etc, in real time and optimizing your law firm Google Ads account instantly.
If you are not good at implementing the tracking, ask a Google Ads agency for law firms that can help you with this.
Google Ads can be an effective tool for lawyers, as it allows lawyers to promote their legal services by creating ad copies for particular key terms that matches your prospect's queries in their location. It also gives the facility to track the performance of your ads and optimize the account as needed.
If you manage Google Ads for your law firm in the right way, it can multiply your firm's number of cases in few months. But, if you don't manage the account right, you may burn your budgets rapidly as the legal industry is very competitive and the PPC bids are very high compared to other industries. To avoid this risk you can take help of a PPC agency that have good exposure managing legal marketing and offers google ads for lawyers, like TechiFox.
If you'd like help with Google Ads for your law firm, we would be glad to discuss this with you. Fill out the contact form to get a FREE 30 MIN CONSULTATION with one of our Google Ads experts.