Legal marketing is expensive and hence every lawyer is trying to find a way to drive cost effective leads to their law firm.
Now, what if I say,
You Can Drive Prospective Leads To Your Law Firm FREE.
Wouldn't that be amazing?
Yes! It would.
And here comes the solution for you.
Google 3-Pack is a great way for a law firm to increase its online visibility and attract more potential clients in their local area.
By appearing in the top three results, law firms can establish themselves as reputable and trustworthy legal service providers in the eyes of potential clients.
This not only increases the chances of attracting more clients but also helps you to build brand awareness, credibility, and authority.
Therefore, utilizing Google 3-pack is an essential digital marketing strategy that you should consider to improve your online presence and gain a competitive edge in your local market.
So, What Is Google 3-Pack And How Does It Appear In Search Engine
The local SEO 3-pack refers to the top three business listings that appear on a Google search results page when searching for keywords like "near me" or "near [Location] or more search terms."
When searching for local businesses, Google compiles a list of potential matches based on your search terms.
After the paid ads, the first results displayed are typically the three Google Business Profile listings, which are accompanied by key information such as contact details, location, ratings, and reviews.
And How it Appears. Snap below…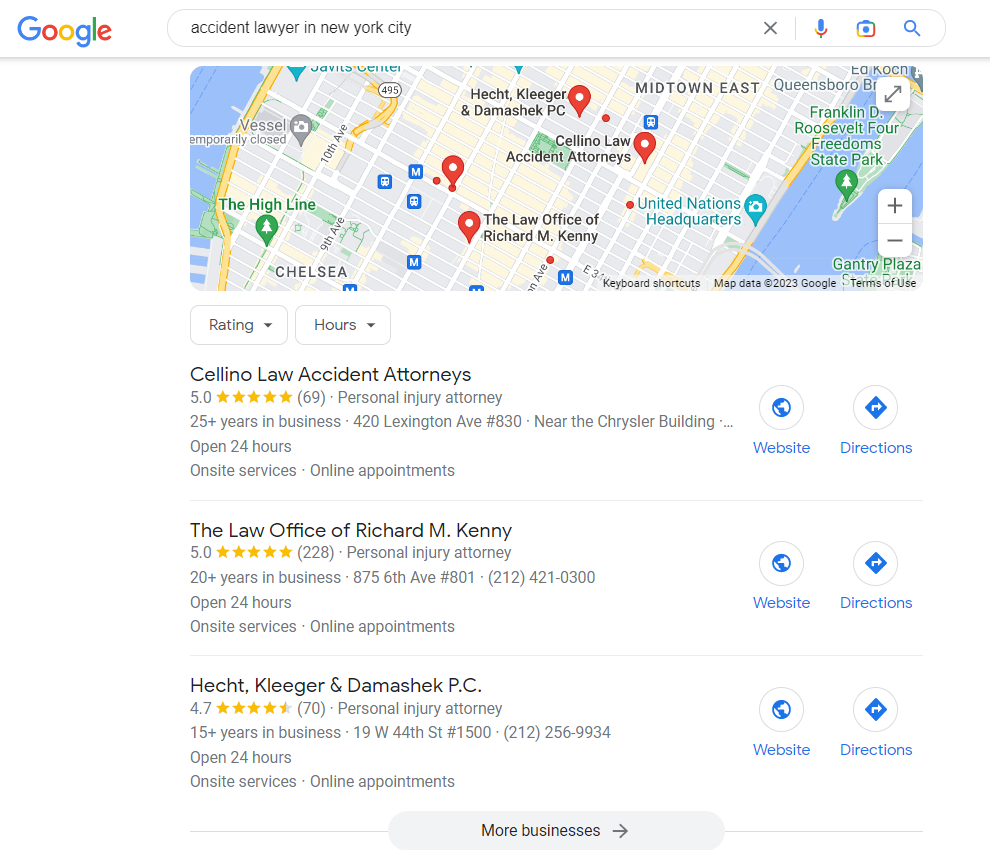 Explain How the Google 3-Pack Differs from Organic Search Results
Typically, the organic search results appear directly below the local pack listings on a Google search results page.
Similar to the 3-pack, these results are also influenced by the search terms used by the user. However, unlike the local pack listings, the organic results typically do not display comprehensive information such as business hours or contact details.
Nonetheless, the organic results may still provide valuable information to the user, such as relevant content or products/services offered by the business.
Rather, the 3-Pack is designed to provide users with quick and relevant information about local businesses, including their addresses, phone number, reviews, and website.
Here are some key ways in which the Google 3-Pack differs from other organic results page features:
1. Local focused: The Google 3-Pack is specifically designed to highlight local businesses in a particular area.
This makes it an important feature for law firms that operate in a specific region or city.
2. The Limited number of results: Unlike organic search results page that can display dozens or even hundreds of results, the Google 3-Pack only shows three local business listings at a time.
This means that businesses that appear in the 3-Pack are more likely to receive clicks and leads from prospects.
3. Map integration: The Google 3-Pack displays a map of the area along with the three business listings.
This can help prospects quickly identify the location of your practice area and determine which one is most convenient for them to contact.
4. Reviews and ratings: The Google 3-Pack prominently displays the average rating and number of reviews for each business listing.
This can be a powerful tool for your law firm that have positive reviews and ratings, as it can help to attract new legal clients and build trust with existing ones.
Steps And Tips for Optimizing Your Google My Business Listing for SEO – 3 Pack
Google My Business (GMB) is an essential tool for your law firm to increase its online presence and visibility on search engine result pages and get flooded with FREE Leads.
GMB helps law firms to appear in the "3 Pack" or "Local Pack" section of Google search results, which is crucial for local SEO.
Here are some tips for optimizing your law firm's GMB listing to improve your SEO and increase your chances of appearing in the Google 3 Pack.
1. Complete your GMB profile: The first step in optimizing your GMB listing is to complete your profile.
This includes adding your law firm's name, address, phone number, website URL, and hours of operation. Make sure that all the information you provide is precise, consistent, and up-to-date.
2. Choose the right categories: Google allows you to choose up to 10 categories for your business.
Make sure you select the most relevant categories that describe your law firm's practice areas. This will help Google understand your business better and show your listing to the right prospects.
3. Add photos and videos: Visual content can help you attract more potential legal clients.
Upload high-quality photos and videos that showcase your law firm's office, team, and work. You can also add virtual tours and 360-degree images to give visitors a better idea of what it's like to visit your law firm.
4. Collect and respond to reviews: Reviews are crucial for building trust with potential legal clients and improving your ranking on Google.
Encourage your clients to leave reviews on your GMB listing and respond to them promptly. This will show Google that your law firm is active and engaged with its clients.
In addition, choose word phrases and synonyms, and keywords that should relate to your law practice area so chances are higher that you are going to rank higher in Google because it satisfies the Google ranking factors and shows that you are solving your legal client problems.
5. Use Google Posts: Google Posts allow you to share updates, offers, and events directly on your GMB listing.
This can help you attract more clients and improve your ranking on Google. Make sure to include a call-to-action and relevant keywords in your Google Posts.
In short, optimizing your law firm's Google My Business listing is an ongoing process.
Make sure to update your listing regularly, respond to reviews, and monitor your performance to make the most of this valuable tool.
Taking these steps, you can improve your local Google listing and increase your chances of appearing in the coveted 3 Pack on Google search results.
Building Local Citations and Backlinks
Local citations and backlinks are important factors for ranking in the Google 3-Pack and getting Free legal clients.
Local citations refer to the online mentions of your law firm's name, address, and phone number on other websites, such as directories, review sites, and social media platforms.
Backlinks, alternatively, are links from other websites to your law firm's website. Both local citations and backlinks signal to Google that your law firm is a reputable and authoritative source in your local area.
The more high-quality local citations and backlinks your law firm has, the better your chances of ranking in the Google 3-Pack.
It's important to ensure that your law firm's information is accurate and consistent across all local citations and to actively seek out high-quality backlinks from reputable sources.
Additionally, Citations are an important variable in determining the ranking of a location in Google Maps search as well as the local 3-pack shown in Google Search.
An example of the local citations done by one of the businesses.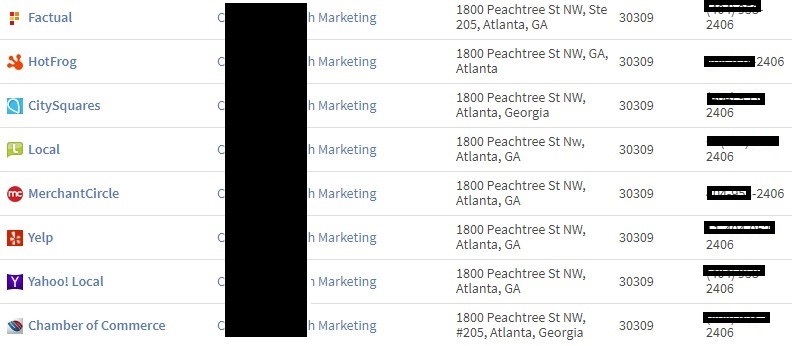 Tips for building high-quality local citations and backlinks for SEO 3-Pack
Building local citations and backlinks for your law firm involves a few key steps:
1. List your law firm in online directories: Start by listing your law firm in relevant online directories like Yelp, Google My Business, Yellow Pages, Facebook, and others. Make sure to include accurate and consistent contact information, including your business name, address, phone number, and website.
2. Claim your law firm's listings: Claim your law firm's listings on the directories to which you've listed them.
This allows you to verify and update your information, and ensure that it's consistent across all directories.
3. Optimize your listings: Make sure that your law firm's listings are optimized for search engines by including keywords in your descriptions and categories.
Also, add images, videos, and reviews to your listings to improve your visibility and credibility.
4. Get listed in legal directories: Submit your law firm's information to legal directories, such as Lawyers.com, Justia, and Avvo. These directories are specific to the legal industry and can provide valuable leads and backlinks.
5. Build relationships with local organizations: Reach out to local organizations, such as bar associations, legal aid societies, and community groups. Offer to provide educational resources or participate in events to establish relationships and earn backlinks.
6. Create high-quality content: Develop high-quality content, such as blog posts, articles, or infographics that are relevant to your practice area.
Share your content on social media sites like Facebook, Twitter, LinkedIn, and Reddit and stumble upon it, and encourage others to link back to your law website.
By following these steps, you can help your law firm build Google business listing, local citations and backlinks, which can improve your online visibility and Google 3-Pack rankings which ultimately generate Free legal clients for your law firm, every month.